We are excited to welcome Mr. Robert C. Ahrens as our next Head of School
The Board of Trustees of Saratoga Independent School (SIS) has named Robert C. Ahrens, Jr. as our new Head of School beginning July 1st, 2021. Ahrens was selected after an extensive search process that attracted a wide array of highly qualified candidates from across the country and abroad.
Robert "Bob" Ahrens has worked in independent schools for more than 25 years. For the past 7 years, Ahrens has served as the Assistant Head of School for Academics & Director of Upper School at Andrews Osborne Academy, a coeducational boarding and day school serving approximately 350 students in Willoughby, Ohio, twenty miles east of Cleveland. Over his vast career, he has worn many hats and served in numerous roles, beginning as a Middle School math teacher and Dean of Students before moving into administrative leadership positions. In addition, he has served as a member of six school accreditation teams as well as serving as a presenter at the National Association of Independent Schools (NAIS) National Conference.
"The students, faculty, staff, and parents of SIS have created a warm and nurturing environment. They know what a gem they have in this school. I can't wait to lead SIS and also proudly be a parent of an SIS student," Ahrens' stated.
Ahrens has always followed one simple, yet powerful philosophy: "Each night, when I lay my head down on my pillow, I ask myself, did I do what was best for the students?" He feels this guiding principle has allowed him to be successful over the past two and a half decades of leading students, faculty, and staff. "The motto of Saratoga Independent School states it perfectly - We take care of ourselves, each other, our school, and our community. That is how I have lived my life and tried to raise my own children. I feel blessed to have the opportunity to lead a school with those same values."
Ahrens' extensive experience and collaborative spirit impressed Saratoga Independent School's Board of Trustees from the start, and the feeling was mutual. "From my first meeting with the Board of Trustees, I felt a connection with them. They are a very dedicated group, and I am confident that together we can take Saratoga Independent School to new and higher levels," Ahrens stated.
Julie S. Fuller, President of the Board of Trustees, stated, "As Saratoga Independent School approaches its 30th Anniversary this September, we will not only be honoring the school's past by commemorating our thirty-year history, but we will also be embracing its future. With Mr. Ahrens' consummate vision, leadership, and extensive experience, we will be looking to our Strategic Plan to continue our unprecedented growth, academic success, and financial sustainability as a fully enrolled PreK through 8th grade, accredited institution."
Ahrens is a native of Cleveland, Ohio. He earned a B.S. from Ohio State University and an M.A. in Educational Leadership from Villanova University. Ahrens was a recipient of the National Association of Independent Schools' E.E. Ford Fellowship for Aspiring School Heads, a yearlong program of leadership development for emerging independent school leaders. He and his wife, Lindsey, and children Brady, Ryan, Ashley, and Finnegan, put great importance on family time. Together they enjoy traveling, hiking, bicycling, and attending concerts, and they look forward to exploring the beautiful Saratoga Springs region and all it has to offer.
Letter from Bob Ahrens, Head of School (Elect)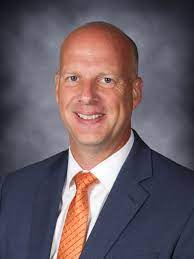 May 10, 2021
Dear Families of Saratoga Independent School,
Thank you to the entire SIS. community for the warm welcomes and good wishes I've received since accepting the position as Head of School. From the moment I stepped foot onto campus, I immediately felt a strong sense of community. This feeling was enhanced by my talks with the students, parents, faculty, staff, and Board members. I would like to extend my gratitude to Board of Trustees President, Julie Fuller, and Head of School Search committee chair, Cat LoMonico, for the time and energy they put into this search.
As I begin to transition into my new role as Head of School, Julie and I will meet regularly to form my goals and priorities for the fall. My aim is to achieve the following goals as soon as possible:
Get to know the SIS community
Work on our upcoming accreditation from NYSAIS
Review and implement the Strategic Plan
Ensure that our academics continue to be the very best possible
Plan our 30th anniversary celebrations for next year
Work to provide the very best academic and social environment for all S.I.S. students
On a personal note, my family and I are extremely excited about our move to the Saratoga Springs area. We are busy looking for a new home and will be making several trips to the area in the coming weeks. We can't wait to begin our exploration of the many outdoor opportunities in this beautiful area. Our youngest son, Finn, is looking forward to seeing his new school and making lots of new friends.
As we pass each other in the halls, please introduce yourself to me. It will take some time, but it's important that I know each and every member of our community.
Finally, thank you for the trust and confidence you have placed in me. I am truly honored to lead SIS know that I am always here for you and for your children. I want to hear from you, and look forward to meeting you when I'm in town over the next few weeks or over the summer. Together we will "...take care of ourselves, each other, our school, and our community."
Best regards,
Bob Ahrens
Head of School (Elect)
+ Head of School Position Statement