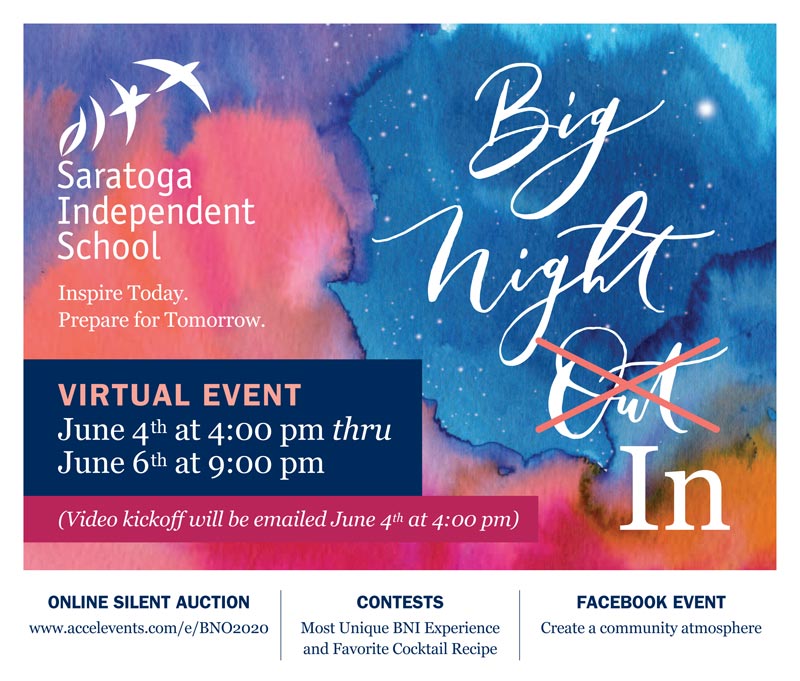 Due to the current health situation, we have transformed Big Night Out to Big Night In.
Big Night In is a virtual event from June 4th to June 6th. You can have a great time and participate while staying in. Although we are disappointed that we cannot celebrate SIS in person with you, we are excited to celebrate together virtually.
A video kick-off will be emailed to you on June 4th at 4:00 pm. At that time our online silent auction will be open with a large variety of items and experiences ready for your bids! You can check out our online auction right here:
https://www.accelevents.com/e/BNO2020
Make sure to visit our
Facebook Event page
, which we encourage you to visit regularly between June 4th and June 6th for a community experience. Set up a unique BNI experience and share pictures on the Facebook Event page. The most unique experience will receive a Cantina gift card. Share your favorite cocktail recipe on the Facebook Event page. The recipe with the most likes will receive a Cantina gift card.
All funds raised from BNI go toward Saratoga independent School's Annual Fund. The Annual Fund directly enhances and supports the student experience at SIS. Your generous support will help enrich the educational foundation of each student.
Please refer to our
Sponsorship Form
for information on becoming an event sponsor. If you would like to become an event sponsor, you may do so by
clicking here
or you may contact Jennifer Allen at jallen@siskids.org.
If you have any questions, please contact Jennifer Allen, Director of Development and Marketing at jallen@siskids.org or 518-583-0841.
Join the Facebook party by clicking here!
Bid on our silent auction items by clicking here!
Thank you to our generous sponsors!
Scholars
Anonymous
Leaders
The Himoff Family
Jessica and Seth Shuket
Champions
Adirondack Radiology Associates
Anonymous
Jay and Alysa Arnold
Nancy S. Cook
Jill and David Dolinsky
Julie and Marcus Fuller
Allison and David Keib
Jon and Meredith Loeck
Schrader and Company Construction Services
The Adirondack Trust Company
Thornton Wealth Management
Jim and Meredith Woolford
Associates
Naomi and Jeffrey Allen
Jeff and Heath Ames
Austin & Co.
Cindy and Duane Ball
Michael and Alison Buckley
The Cantanucci Family
CDPHP
Justin and Lindsay Ferrara
Scott and Erica Fuller
GreyHouse Productions
Hampton Inn and Suites Saratoga Springs
Jayne Kirber and Geoffrey Hill
Janitronics
Jessica Schwartzman-Cambiamento LLC
John and Allison Karcher
Law Offices of Steven Greenblatt
Eng Hua Lim
Minich MacGregor Wealth Management
NBT Bank
Saratoga Performing Arts Center
Northwestern Mutual / Thornton Match
Laura Tilton
Friends
Aibel Family
Jennifer Allen
Lisa Brown
Kim Crabbe
Dr. and Mrs. Robert H. Hill II
The Tepper Family
In-Kind
Bergmann Zwerdling Direct
Betsy Olmsted
Fingerpaint
Rob Spring Photography