The 1991 Fund
To make a secure gift to The 1991 Fund using a credit card, please CLICK HERE.
Saratoga Independent School was founded in 1991 and has since provided an excellent educational experience for families within Saratoga Springs and the surrounding areas. We take pride in offering our students rigorous academics in an environment that instills strong character and leadership skills. We currently serve 150 students in Pre-K through Middle School.
As we honor our past and plan for our future, we celebrate the strong and vibrant school community we have built. The 1991 Fund is our annual giving drive and each year we raise funds to help bridge the gap between tuition and the annual budget. Gifts to The 1991 Fund are vital in assisting our school in providing financial aid and scholarships, as well as supporting academic programs and enhancements, such as community service activities, visiting artists and performers, upgrading classroom technology, purchasing outdoor sports equipment, and providing professional development opportunities for faculty and staff.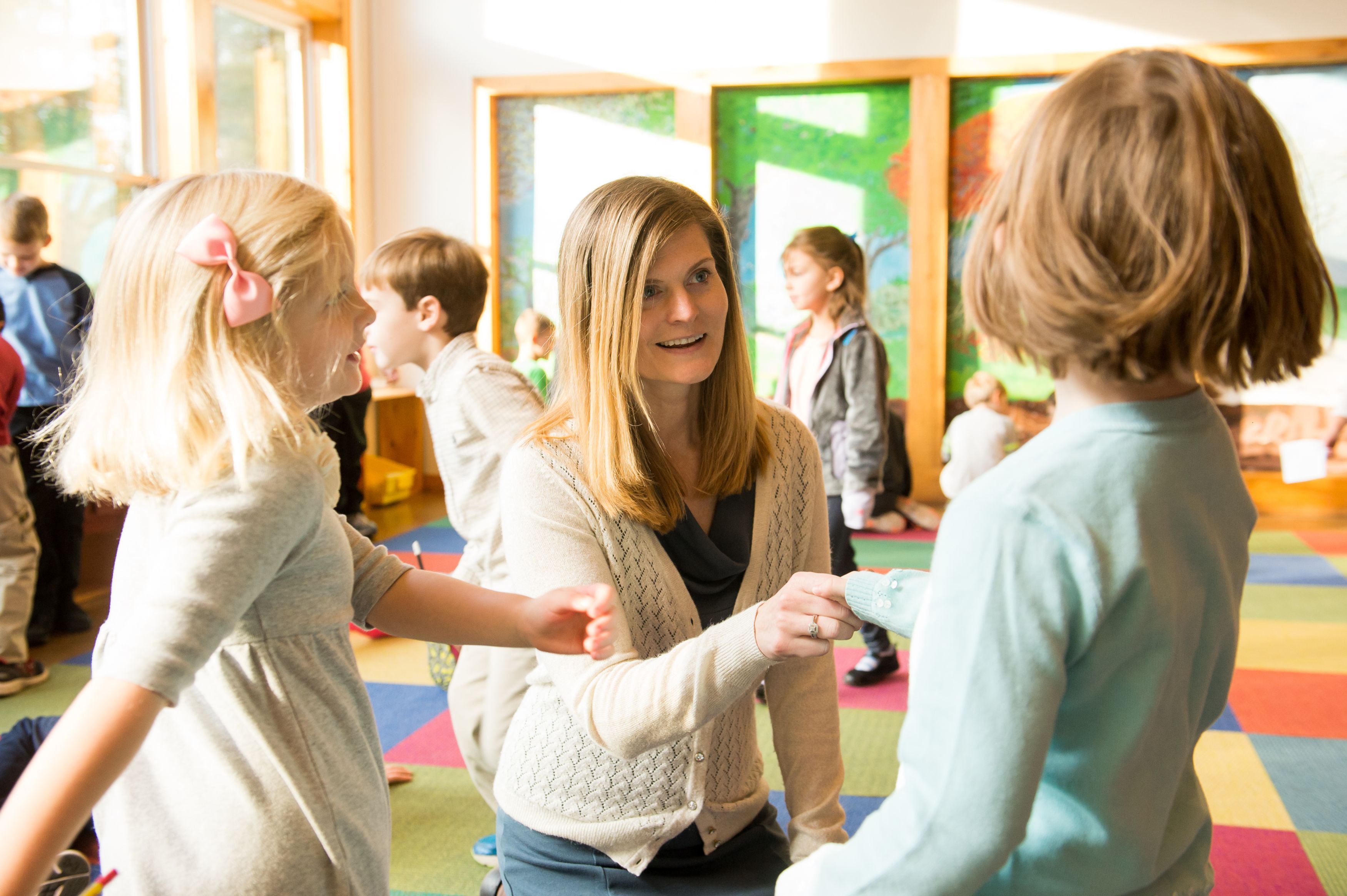 Because the 1991 Fund helps support the yearly operating budget, Saratoga Independent School depends on everyone to participate every year. Your participation sends a powerful message of your belief in the school's mission. A high percentage of participation is just as crucial as the actual dollars raised. Foundations and other funders review participation rates when considering awarding grants to SI.S.
We are grateful to you for your past support, and thank you in advance for giving generously.
If you would like to support The 1991 Fund directly, you may do so by making a gift via cash, check, stock or credit card.
To make a secure gift to The 1991 Fund using a credit card, please CLICK HERE.
To pay by check, make check payable to "Saratoga Independent School"
mail to: Saratoga Independent School - Development Office, 459 Lake Avenue, Saratoga Springs, NY 12866.
Our goal is to have 100% participation from our families.
Please help Thunder the Moose climb to the top of the mountain!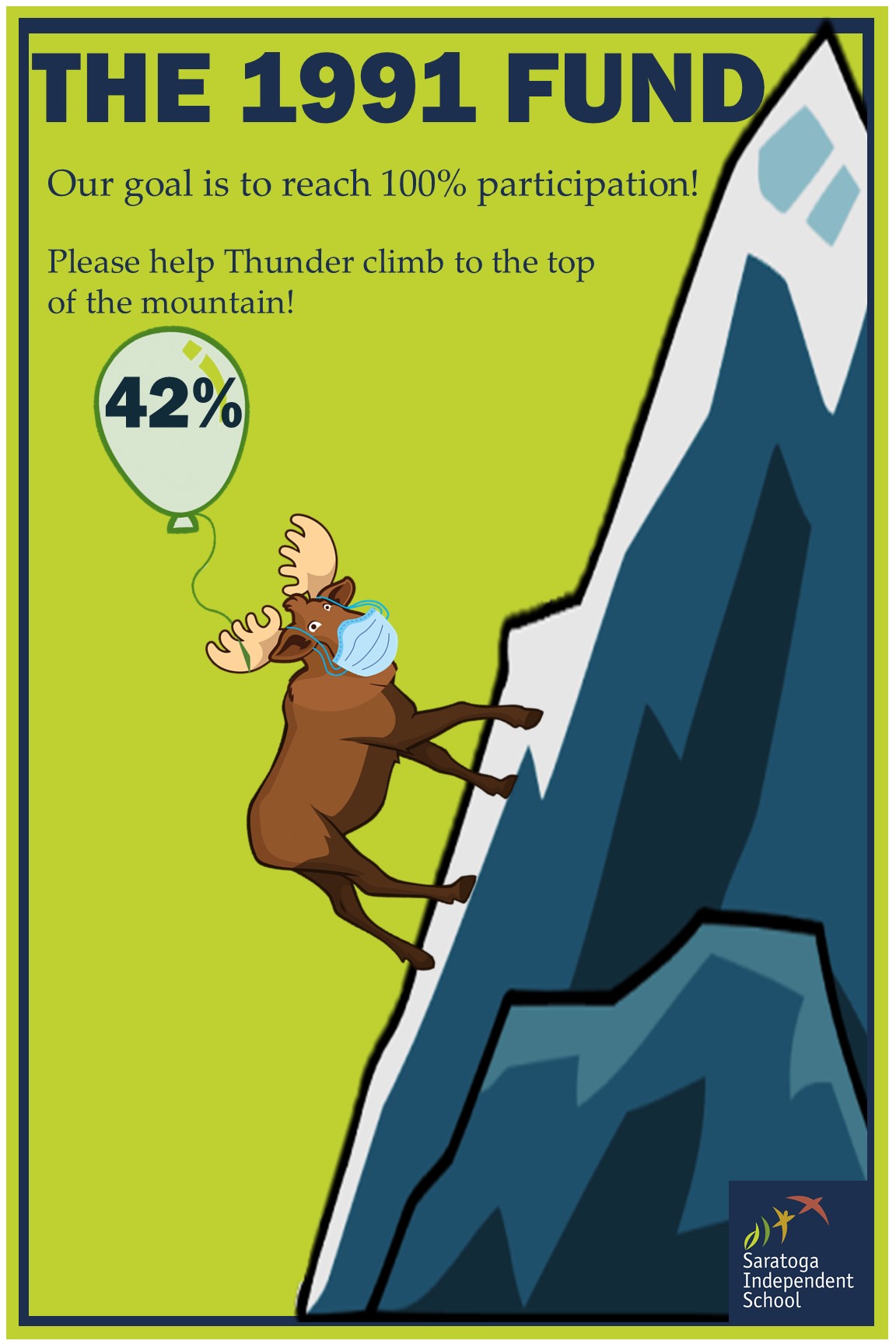 On May 6, 2021, we reached 42% participation!
Thank you to our generous sponsors!
Lisa Brown
Ann and David Townsend
The Roe Family
Jennifer Allen
Edna M Limson
Kim and Sally Zarney
Julie and Marcus Fuller
Kim Crabbe
Anonymous
Ed Motter
Allison and John Karcher
Heath and Jeff Ames
Catherine LoMonico and Steven Greenblatt
Anonymous Board Member
Jennifer and Ed Degenhart
Alysa and Jay Arnold
Meredith and Jim Woolford
Carrie A. Lee
The Aibel Family
Emily Miller and Peter Scannell
Kathleen Gray
Susan and Ron Backer
Jessica and Rick Schwerd
Jessica and Yli Schwartzman
Lindsay and Justin Ferrara
Beth and Dennis Kiingati
Allison and Michael Buckley
The Banks Family
Tracy and Mark Weldon
Karen Wallingford
The McDonald Family
Jayne Kirber and Geoff Hill
The Harvey-Rowe Family
The Mann Family
Jessica and Art Davis
Kelly and Aaron Scher
Suzanne and Doug Gowen
The Hersh Family
Theresa Hotte
Tamara B Tepper
The Sun Family
The Lim Family
The Smith Family
Smith Executive Services
Glenn and Cyndi Park
Chrisit Hill and Jonathan Short
Anonymous
Kathleen Johansson
Colleen Fortune
Tammy Wagner
The Himoff Family
Oma (Wallingford)
Margaret and David DeVoe
Christine and James Karcher
Judith Franklin
Emily and Achim Bergmann
JoAnne McDonough and Tom Gliserman
Margaret Leeco
Nancy Cook
Katja Bock and James Hanaway
Anonymous Board Member
Susan and John Westney
David Greco
Cantina for a Cause Fundraiser
Mel Lazar
The Shewe/Varno Family
Patti Veneziano
Kathy and Ken Allen
Gabi Moore
Rachel Morgan
Senora Chocolate
Colleen O'Sullivan
Jess LaBounty
Michele LeChevet
The Grimes Family
Anonymous